Happy Pink Saturday
Welcome to Pink Saturday.  
  Please join us in the fun by linking your Pink Saturday post permalink
using the linking tool provided at the bottom of this post.
It's time for each and every one of you to

share your pink.



Linking begins at 3 p.m. EST every Friday and continues through midnight Sunday night.
So, show us your Pink by linking your pink post permalink.
And please remember to include a link back to my blog within your post
so that your visitors will be able to visit here.
Please take the time to visit other participants.
Leave a comment so they will know you stopped by to visit.
Pink Saturday is about having fun!
It gives us a chance to meet others in the blogging community.
I promise it is worth the effort.
You will not only see lots of pink,
you will meet incredibly nice and talented people.
I want to thank each of you that link,
and a very special thank you to those
that take the time to leave me a comment.
It is you that make Pink Saturday special.
**************************************
Reminder
We have a weekly challenge for you to visit the blog of at least one
participant that you have never visited. Then next Saturday
include that blog and a link in your post.
Quite a few of you have been done this challenge,
and have met some great Pink Saturday participants.
Thank you for sharing with us.
**************************************
Pink Saturday Featured Blog
This week I am featuring Sarah at Hope In Every Season.  Sarah has been participating in Pink Saturday quite some time, and not only is she one of the people that make Pink Saturday special, she makes life special for all those who hold her dear.

Sarah is an incredible you woman and the mother of many sweet young hearts.  She lives her faith in God, and shares her joy with all.  I know you will be blessed to have Sarah as a blogging friend.

Please take a minute to go meet Sarah,
and introduce yourself by leaving a comment.
Thank you, Sarah,
for making Pink Saturday special
and for shining your light on all of us.

Sarah has written the follow personal message to you.
Sarah at Hope In Every Season

Hello Dear Pinkies!

I'm so honored to be Beverly's Featured Blogger for today---I feel as if I've "arrived"! 


Those of you who have been participating in Pink Saturday for awhile know what I mean when I say that this community has totally changed my life!  I've met so many beautiful and talented bloggers and have learned SO much from you all!

There's a place in the Bible, in Titus 2, that talks about the older generation training, leading and influencing the younger generation in the ways of womanhood.  I feel like that is what Pink Saturday is for me---so many wise and wonderful women of all ages who value one another's perspective and desire to learn and grow together!
I want to send out a special invitation for each of you to join in on my March Giveaway Jubilee!   Everyone is welcome to participate---either as a "giver" or by entering to win.  This carnival is going on all month long and will be set up like a linky party so it will be super easy for you to continue to check back throughout the month for more giveaways to enter, as well as offering your own giveaway if you'd like!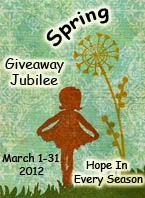 I can't wait to make my rounds visiting all the PINK this week!   I'm going to give myself a challenge of stopping by everyone's blog before the week is over!
                                 ~~~HaPpY pInK sAtUrDaY!~~~
**************************************