My father when he and my mom were married in 1950.
The first man I loved.
How blessed we are by our Heavenly Father.
And, I have been blessed by three wonderful fathers.
My own father, my husband 
and my son.
Happy Father's Day to the men I love.
And, Happy Father's Day to all
father's being honored on this day.
Please visit Spiritual Sunday to fill your heart with joy.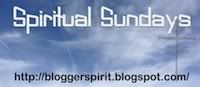 Thank you, dear Charlotte.